Yo-ho mateys! National Rum Day is just around the corner. Are you ready to channel your inner swashbuckler and let loose the pirate within by mixing up some of the tastiest rum drink recipes around? After all, nothing better compliments a warm night out on the town or a Pirates of the Caribbean marathon than some tasty rum mixed drinks.
Rum appears in everything from desserts to cocktails. Rum can be sweet, sultry, spicy, and everything in between! It's no wonder rum has its own special day of celebration. August 16th is national rum day, an extravaganza of all delicious things rum-related.
Below, we'll talk about the history of national rum day and then give you some of the absolute best rum drink recipes! These rum-infused mixed drinks will surely put a little pep in your step and help you celebrate national rum day in style.
The History of National Rum Day
As everyone knows, pirates and rum go hand in hand. After all, this alcoholic beverage seems to be intrinsically linked with nautical shenanigans. However, have you ever wondered why rum and pirates are so closely correlated? It has to do with how rum is made and where it comes from. Rum is a distilled alcohol made using sugar cane. Some kinds of rum are made from molasses, but for the most part, sugarcane is the main ingredient. Spices, essences, extracts, barrel wood, and the aging process can all impact the rum's flavor.
So what does this have to do with pirates? Well, it has more to do with sailors in general. From the 1500s to 1700s, seafaring adventurers drank whatever was most readily available. In many cases, the nearest fresh water source was far away, making alcohol a great alternative. Rum was cheap and prevalent in the Caribbean islands, where it was distilled from sugar cane. Since many sailors, traders, and, yes, pirates were sailing the South Seas, rum was their natural go-to beverage of choice.
Sometime around the year 1740, citrus extracts were added to watered-down rum. Called Grog, this spiced rum became popular among pirates and sailors because it helped ward off scurvy.
Over time, different distilleries continued production and enhanced their most popular rum recipes. Today, some of the best rum in the world still comes from the Caribbean! People from all over the world now enjoy rum and celebrate it on national rum day; the perfect time to cut loose with a delicious rum cocktail.
Now, here are some great drinks to try!
Delicious Raspberry Daiquiri Recipe
Looking for a refreshing daiquiri recipe? Look no further than this tasty delicacy! Infused with essences of real, sun-ripened raspberries and hibiscus, this cocktail will be an instant hit. Made with Raspberry Hibiscus Barmalade®, it's sweet, floral, and delicately deep with the perfect balance of flavors to light up your evening. Here's the recipe!
Ingredients:
1 oz Raspberry-Hibiscus Barmalade®
2 oz Rum
½ oz Fresh Squeezed Lime Juice
Instructions:
In a shaker, combine all ingredients.
Next, add ice.
Now, shake vigorously.
Finally, strain into a coupe glass.
You can add a garnish if desired! That was easy.
Passionfruit Mai Tai Recipe
Who doesn't love the tropical island flavor of passionfruit with the citrus notes of a mai tai? To take things to a new level, rich and tangy pineapple adds the ideal level of complexity! Want to make this drink easily? If so, use Passionfruit Pineapple Barmalade®. Here's how!
Ingredients:
1 oz Passionfruit-Pineapple Barmalade®
1 oz Silver Rum
1 oz Dark Rum
½ oz Triple Sec
¼ oz Pineapple Rum floater
3 Freshly Diced Strawberries as a Garnish
Instructions:
Combine all the above ingredients except the Pineapple Rum Floater in a shaker.
Now, add ice and then shake everything vigorously.
Pour the drink into a hurricane glass.
Then, pour the Pineapple Rum on top.
Finally, garnish with your freshly diced strawberries.
Spicy Mango Colada Recipe
Who can resist a fresh pina colada? How about a handmade pina colada with hints of sweet and tangy mango, refreshing zesty lime, creamy coconut, and spiced rum undertones? If this sounds like a tasty option, then you should consider making this drink. It's incredibly easy with Mango Habanero Barmalade®!
Ingredients:
¾ oz Mango-Habanero Barmalade®
2 oz Rum
½ oz Pineapple Juice
½ oz Coconut Creme
¼ oz Lime juice
Ice as needed (for shaking or blending)
Instructions:
First, mix all of the ingredients into a shaker or blender.
Now, add ice and shake vigorously. (Or, blend if preferred.)
Pour the blended mixture into a hurricane glass.
Garnish as desired!
Blackberry Mojito Recipe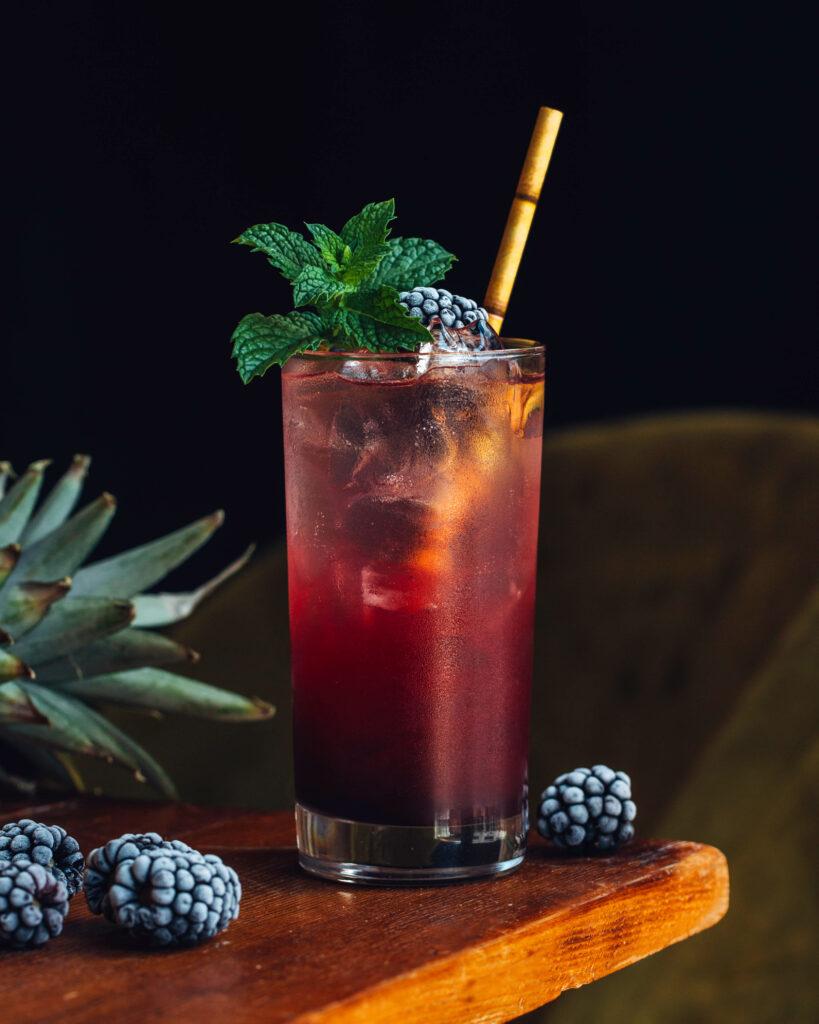 Finally, let's talk about one of the most delicious and refreshing mojito recipes out there. If you already know how to make a mojito, this recipe makes it even better. If you don't yet know how to make a mojito, this is the simplest and tastiest option to try! You can't go wrong with real blackberries and sprigs of mint from Blackberry-Mint Barmalade®. (Read more about the Blackberry Mojito recipe here.)
Ingredients:
1 oz Blackberry-Mint Barmalade®
1 ½ oz White Rum
½ oz Fresh Lime Juice
Club Soda (Topper)
Fresh mint or blackberries if desired
Instructions:
First, combine all ingredients (except the club soda) into a shaker.
Then, add ice and shake the mixture vigorously.
After this, pour the mojito into a tall glass until it is 3/4 full.
Finally, top with club soda and garnish with fresh mint and blackberries!
Final Thoughts About National Rum Day
We hope these delicious rum based Barmalade® drink recipes sound enticing and have your mouth watering! After all, the best way to celebrate National Rum Day is to make a delicious rum cocktail (or two)! The four rum cocktails above are fantastic options that all include Barmalade® cocktail mixers – one of the tastiest ways to make specialty drinks in seconds.
The Benefits of Barmalade®
There are so many reasons to try Barmalade®. Bring your party to life or feel like a professional bartender with Barmalade® at your side. Barmalade® is made using the finest natural ingredients and is never watered down, fruit is always the first ingredient.
No matter what delicious concoctions you want to mix up, Barmalade® has you covered! Making craft cocktails at home has never been easier. Barmalade®'s line of all-natural premium fruit mixers lets your creativity come to life as you craft gourmet drinks in minutes.
Barmalade® Benefits:
All Natural Ingredients
Made with More Fruit than Water (unlike most mixers)
Unique Flavor Combinations
Versatile – Mix with All Types of Spirits
Add Dimension to your Drink without the Effort and Extra Ingredients
No Need to Hand Muddle Fresh Fruit
Gluten Free
Long Shelf Life
There are tons of mouth-watering flavors to choose from! From refreshing Blackberry-Mint to tropical Passionfruit-Pineapple, there are flavors for every palette, drink recipe and even food applications! Enjoy the botanical bliss of Grapefruit-Elderflower paired with gin, or shake up a delicious Paloma. Maybe you want to give your drink a rich citrus touch with Blood Orange-Guava Barmalade®. See the many Barmalade® flavors for yourself and get a taste of premium, natural real fruit goodness by ordering today!