Spooky season is here and we're celebrating with this devilishly delicious cocktail! Let's make the best Halloween cocktail recipe for any party or occasion!
Halloween is a holiday favorite here at Barmalade®. Our mixologists thought hard about the perfect drink that would inspire all of our Halloween enthusiasts. Our October cocktail is oozing Halloween vibes with its crimson red raspberry color and its killer combination of spirits and garnishes.  
Our Raspberry-Hibiscus Cocktail Mixer was the perfect fit for this Halloween, bringing a sweet and tart punch to your drink or cocktail. We paired that with Tequila Blanco and Galliano L'Aperitivo to give you some serious flavor and punch.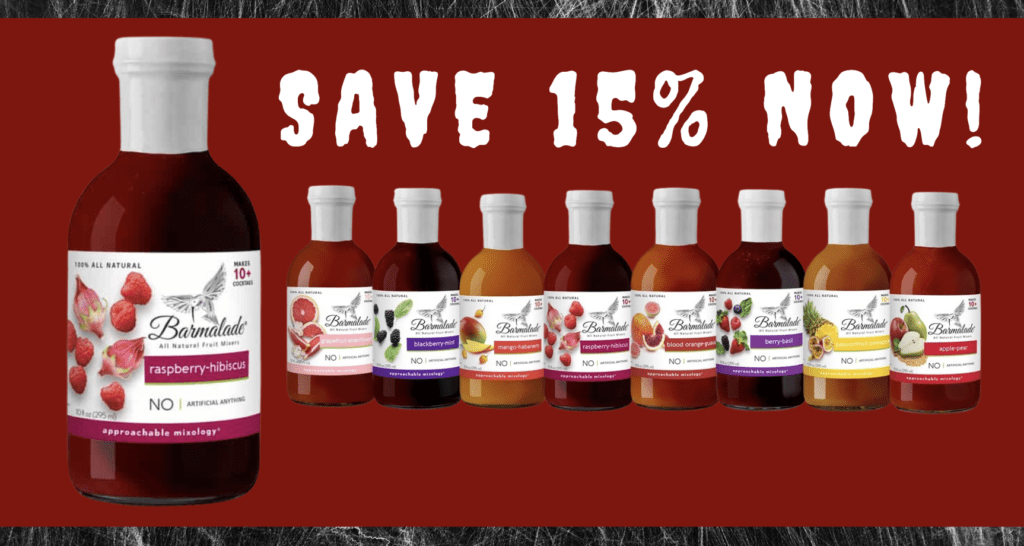 The Best Halloween Cocktail Recipe To Make At Home
Galliano L'Aperitivo is a bitter, or 'Amaro' in Italian. It's infused with Mediterranean citrus such as oranges, bergamots, bitter oranges and grapefruits. This blend gave our cocktail the perfect amount of tart and sweet. 
Tequila Blanco, or Silver, is tequila in its purest form. It is sometimes referred to as the essence of tequila. It is clear in color and usually bottled immediately after the last distillation. This produces an agave-forward clear spirit with hints of citrus & spice that blends perfectly into any citrus forward cocktail.
Cocktail garnishes bring it all together! We used fresh raspberries and lime juice, along with a cranberry topper for that sour scream you love! 
Make The Best Halloween Cocktail With Our Raspberry-Hibiscus Barmalade® Cocktail Mixer
We'll put a spell on you with this cocktail! We introduce….
The Boogie Man's Blood Bath Cocktail
Step One

Step Two
Step Three
Step Four
Step Five
Step Six
Step Seven
The Boogie Man's Blood Bath Cocktail
It's that simple! You can make the best Halloween cocktail at home, with premium ingredients! Don't be a bore at your next Halloween gathering. Bring Barmalade® to the party and watch people scream with joy. 
Video Recipe For The Boogie Man's Blood Bath Cocktail
The Boogie Man's Blood Bath Cocktail Recipe
Ingredients: 
1 oz Raspberry-Hibiscus Barmalade®
1 ½ oz Tequila Blanco
½ oz Galliano L'Aperitivo
½ oz Fresh Lime Juice
Owens Cranberry + Lime (Topper)
Raspberries (Garnish)
Instructions:
Combine all ingredients except Owens Cranberry + Lime soda into shaker, add ice and shake vigorously.

Strain into a martini glass, top with Owens Cranberry + Lime, and garnish with raspberries.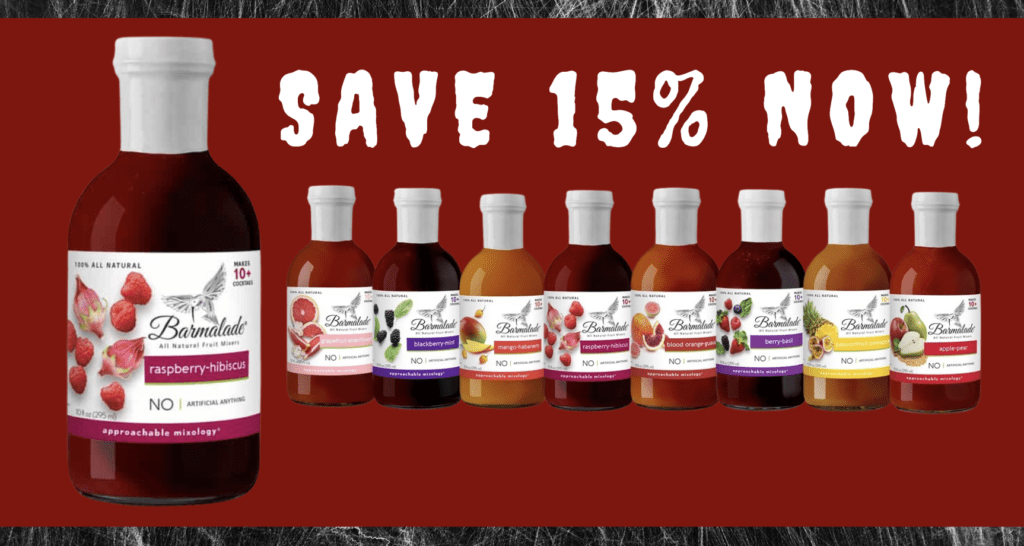 The Benefits of Barmalade®
There are so many reasons to try Barmalade®. Bring your party to life or feel like a professional at home bartender with Barmalade® at your side. Barmalade® is made using only natural ingredients and is never watered down. We are Gluten free and made with 100% real fruit.
No matter what delicious cocktails you want to mix up, Barmalade® has you covered with 8 different flavors to choose from! Making craft cocktails and mocktails at home has never been easier. Barmalade®'s line of all-natural premium fruit mixers lets your creativity come to life as you craft gourmet drinks in minutes.
Barmalade® Benefits:
All Natural Ingredients
Made with More Fruit than Water (unlike most mixers)
Unique Flavor Combinations
Versatile – Mix with All Types of Spirits
Add Dimension to your Drink without the Effort and Extra Ingredients
No Need to Hand Muddle Fresh Fruit
Gluten Free
Long Shelf Life
There are tons of mouth-watering flavors to choose from! From refreshing Blackberry-Mint to tropical Passionfruit-Pineapple, there are flavors for every palette, drink recipe and even food applications! Enjoy the botanical bliss of Grapefruit-Elderflower paired with gin, or shake up a delicious Paloma. Maybe you want to give your drink a rich citrus touch with Blood Orange-Guava Barmalade®. See the many Barmalade® flavors for yourself and get a taste of premium, natural real fruit goodness by ordering today!