If you're a lover of the classic mojito, you will crave this twist on the classic! Mojito's are known for their tangy, sour and sweet flavors. Mojitos are incredibly delicious and can make any gathering or solo night at home a tasty one. Make the best mojito recipe at home with our Blackberry Mojito!
This hand-shaken mojito's minty & citrusy flavors will set your taste buds wild! We really can't think of a better way to spice up your craft cocktails than with our Blackberry Mojito recipe. This real fruit mojito is a refreshing, mildly sweet, and bubbly combo that packs all the flavor combinations your drink needs. This will be your new go to drink that can be made in under one minute right in the comfort of your kitchen! 
The Blackberry Mojito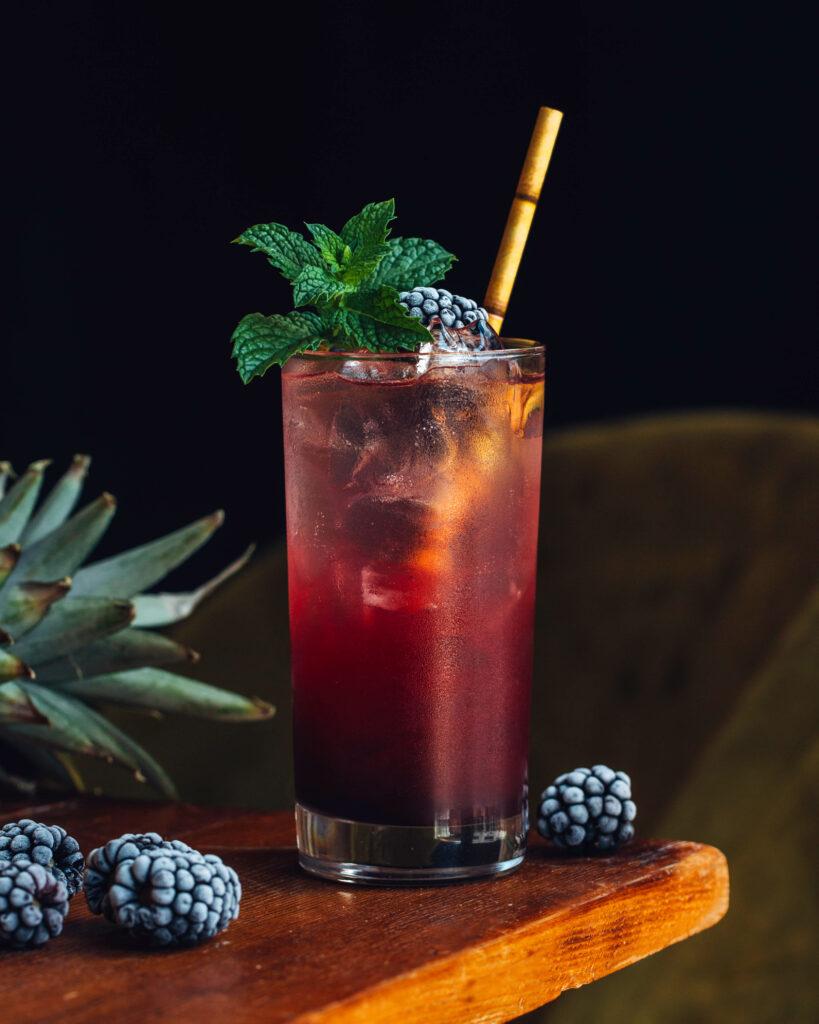 The Best Mojito Recipe To Make At Home
For the best mojito, you should always use real, fresh ingredients. Lime and club soda adds a nice fizzy kick, while mint brings an element of crisp refreshment to the drink. But wait, there's more! Our Barmalade® all natural fruit mixers are made with 100% real fruit and are gluten free! Enjoy your cocktail knowing it's made with the best and freshest ingredients. 
The Blackberry Mojito recipe can be used to make one mojito at a time. However, you can quickly scale them all up and mix everything in a large pitcher if you'll be entertaining! Enjoy & share this recipe with your friends! 
Make The Best Mojito With Our Blackberry-Mint Barmalade® Cocktail Mixer
Step One

Step Two
Step Three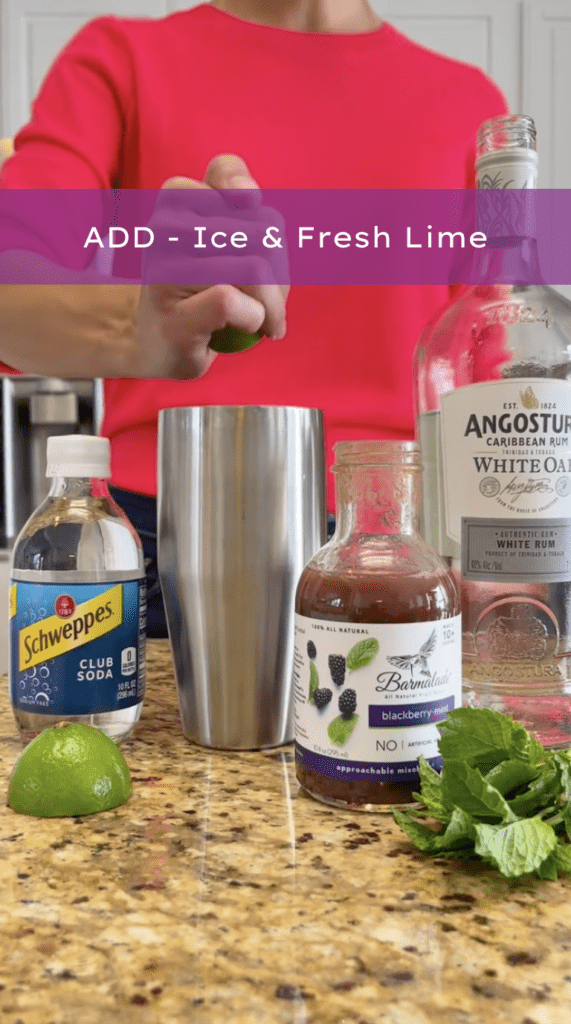 Step Four
Step Five
Blackberry Mojito Recipe
Let's talk about how delicious and refreshing this mojito recipes is! If you already know how to make a mojito, this recipe takes it to another level. If you don't yet know how to make a mojito, this is the simplest and best option to try at home! You can't go wrong with real fruit blackberries and hints of mint from our Blackberry-Mint Barmalade®.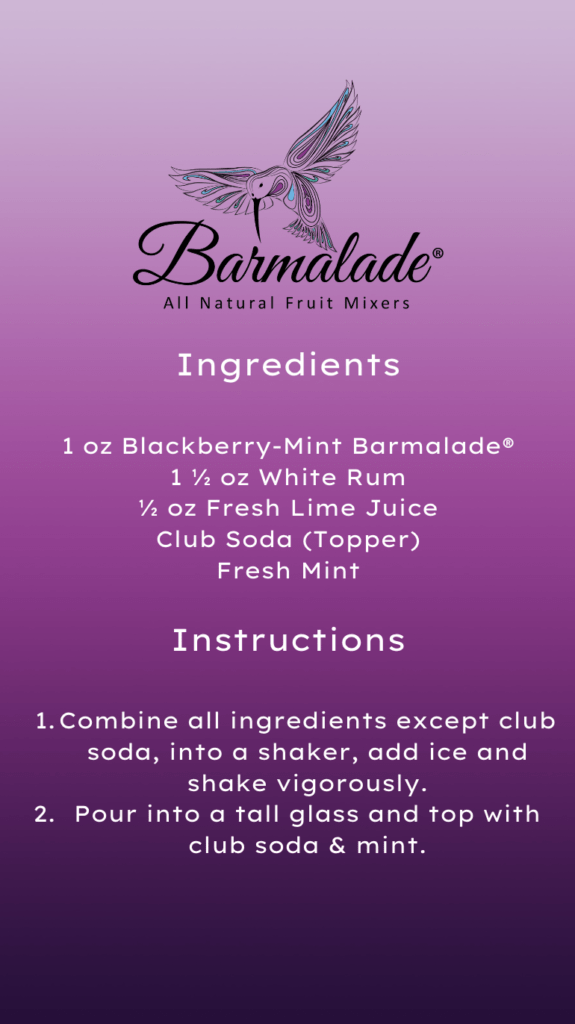 Video Recipe For Our Blackberry Mojito
Blackberry Mojito Recipe
Ingredients:
1 oz Blackberry-Mint Barmalade®
1 ½ oz White Rum
½ oz Fresh Lime Juice
Club Soda (Topper)
Fresh mint or blackberries if desired
Instructions:
First, combine all ingredients (except the club soda) into a shaker.
Then, add ice and shake the mixture vigorously.
After this, pour the mojito into a tall glass until it is 3/4 full.
Finally, top with club soda and garnish with fresh mint and blackberries!
The Benefits of Barmalade®
There are so many reasons to try Barmalade®. Bring your party to life or feel like a professional at home bartender with Barmalade® at your side. Barmalade® is made using only natural ingredients and is never watered down. We are Gluten free and made with 100% real fruit.
No matter what delicious cocktails you want to mix up, Barmalade® has you covered with 8 different flavors to choose from! Making craft cocktails and mocktails at home has never been easier. Barmalade®'s line of all-natural premium fruit mixers lets your creativity come to life as you craft gourmet drinks in minutes.
Barmalade® Benefits:
All Natural Ingredients
Made with More Fruit than Water (unlike most mixers)
Unique Flavor Combinations
Versatile – Mix with All Types of Spirits
Add Dimension to your Drink without the Effort and Extra Ingredients
No Need to Hand Muddle Fresh Fruit
Gluten Free
Long Shelf Life
There are tons of mouth-watering flavors to choose from! From refreshing Blackberry-Mint to tropical Passionfruit-Pineapple, there are flavors for every palette, drink recipe and even food applications! Enjoy the botanical bliss of Grapefruit-Elderflower paired with gin, or shake up a delicious Paloma. Maybe you want to give your drink a rich citrus touch with Blood Orange-Guava Barmalade®. See the many Barmalade® flavors for yourself and get a taste of premium, natural real fruit goodness by ordering today!