If you have never sipped on the tangy, tingly goodness of a mojito before, you might be missing out. Mojitos are incredibly tasty and can bring a little life to any party, vacation, or relaxing night at home. This is easily one of the best mixed drinks for summer!
No other cocktail can quite compare to a hand-shaken mojito's refreshing, minty, citrusy flavor. Seriously, is there a better way to cool off on a hot sunny day than with mint, rum, and lime? The mojito is such a popular cocktail that it even has its own nationally recognized mini-holiday: National Mojito Day!
This year, National Mojito Day falls on July 11th. In honor of National Mojito Day, here is some awesome mojito trivia. You can also use these magnificent mojito ideas and facts to bring you sweet inspiration this summer. We've even included some of the best mojito cocktail recipe ideas to try. Let's dive in!
The History of The Mojito Cocktail
Mojitos are truly classic cocktails. This drink likely comes from Cuba. Unsurprisingly, mojitos are made using ingredients specific to Cuba, including rum, sugar, lime, and mint. The mixture is sometimes topped off with a little bit of club soda to create a bubbly, thirst-quenching effect.
As with so many cocktails, the origins of the mojito have been lost to history. However, there are many theories about where this delicious drink comes from. One of the most credible involves sailors looking for gold off the coast of Cuba. While they didn't strike it rich on their expedition, they may have invented the mojito!
Here's Some Mojito Trivia
Mojitos most likely come from Cuba.
Ernest Hemmingway really liked mojitos.
Mojitos have been around for at least 450 years!
The original mojito was likely used for medicinal purposes.
The James Bond films contributed to the popularity of this drink.
Slapping your mint leaves before adding them to a shaker helps your mojito taste fresher!
The Cuban Origin Story of the Mojito
It is likely that the mojito was originally discovered by Sir Francis Drake around 500 years ago. In the 1500s, Sir Francis Drake sailed to Cuba, searching for gold. During the voyage, many sailors began suffering from the effects of scurvy. The South American locals in the region were known to have remedies for a range of diseases. So, Sir Francis Drake sent a small group of men ashore to look for help.
The exploration party came back with some unique ingredients sourced from the islands and recommended by the indigenous people. They created a delicious and effective tonic using mint leaves, Aguardiente de Cana, and the juices from limes and sugar cane. Sure enough, it helped the sailors effectively treat scurvy. The cocktail was allegedly named Al Draque, in honor of Sir Francis Drake. So, while the mission to find gold didn't go as planned, at least something marvelous came out of the trip!
Other Potential Mojito Origins
Another source claims that enslaved Africans were the ones who popularized the mojito. Apparently, they had many delicious variations of this beverage. Still, other sources claim that mojito comes from the Spanish word "Mojadito" (which means "a little wet") and the Cuban lime-based seasoning known as mojo. Combining these words gives you a hybrid phrase that sounds a lot like "mojito"!
Popularization of the Mojito by Bicardi
No matter how this drink came to be or got its name, we can be confident that it became popular because of Bacardi. In the mid-1800s, the Bacardi company began spreading the popularity of the mojito to help with their marketing efforts. Ernest Hemingway personally enjoyed the drink and gave it his stamp of approval. Bacardi's advertising campaigns and the popularity of the literary drink circles helped it become famous around the world.
Over the next 50 years, Bacardi continued popularizing Mojitos. In popular culture, this is considered a high-baller drink. James Bond can be seen drinking one on the beach in the 2002 movie Die Another Day.
Make The Best Mojitos At Home (Cocktail Ideas)
Mojitos are lovely for hot beach days, entertaining friends at home, and relaxing on sultry summer evenings. Refreshing, mildly sweet, and fizzy, this libation is famous for a reason! A delicious mojito will be perfectly balanced with sweet and tart flavors. For the best mojito, you should use real, fresh ingredients. Lime and club soda adds a nice kick, while mint brings an element of crisp refreshment to the drink. The following recipes can be used to make one mojito at a time. However, you can quickly scale them all up and mix everything in a large pitcher if you'll be entertaining a group this summer!
Spicy Mango Mojito Recipe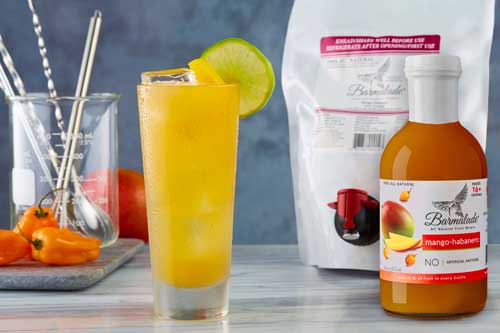 This spicy spin on the original is adventurous and bold! It easily complements summer cuisine. Pair it with street tacos for a themed evening, or serve it at parties to bring a little bit of heat to the classic mojito recipe! The mango and habanero flavors in this recipe can make a mojito stand out!
Learn more about the Spicy Mango Mojito here!
Ingredients
¾ ounce of Mango-Habanero Barmalade®
1 ½ ounce of White Rum
½ ounces of Fresh Lime Juice
5 Fresh Mint Leaves
Club Soda (As a Topper)
Instructions
Using the palm of your hand, slap the mint leaves. This works to release their aroma and flavor. Then, put them into a shaker.
Next, combine all remaining ingredients in a shaker, except for the club soda. Add ice and shake everything vigorously. Pour into a tall glass and top it off with a splash of club soda.
Blackberry Mojito Recipe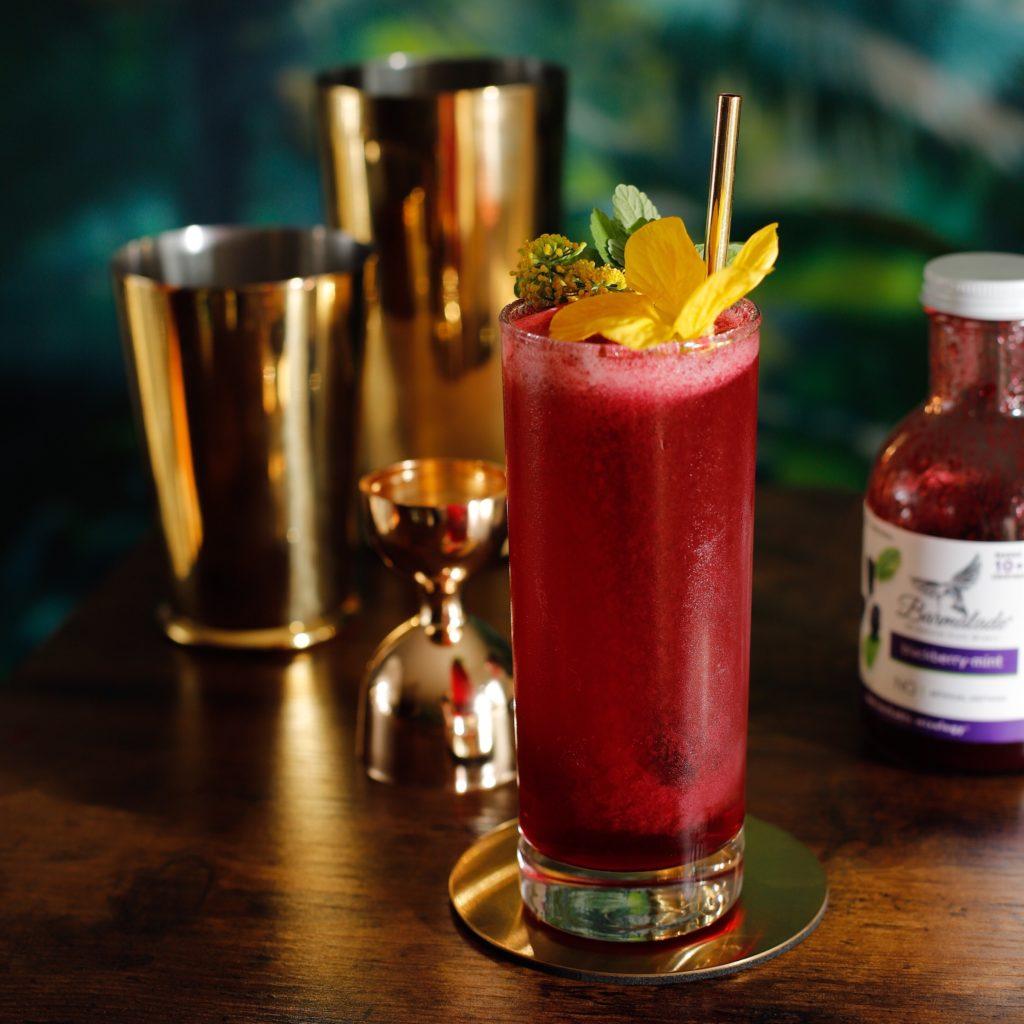 If you love the flavor of ripe mountain berries, this cocktail is for you! It offers the tangy tartness of blackberries with an extra kick of mint. Best of all, you don't have to worry about muddling the mint yourself. The refreshing fresh mint flavor is already in the Blackberry-Mint Barmalade®!
Learn more about the Blackberry Mint Mojito here!
Ingredients
Instructions
This is one of the easiest mojito cocktail recipes to make. Simply combine all of the ingredients listed above except for the club soda in a shaker. From there, add a scoop of ice and shake vigorously. Finally, pour your drink into a tall glass. Top with club soda and any garnish you like!
Raspberry Mojito Recipe
The tangy, sweet tartness of raspberries is perfect for summer days. The only thing more tempting is the fresh taste of raspberry enhanced with the floral notes of hibiscus! In this raspberry mojito recipe, these flavors combine with crisp mint, sweet rum, and fresh lime juice for an irresistible summertime libation.
Learn more about the Raspberry Mojito here!
Ingredients
Instructions
First, use the palm of your hand to slap the mint leaves. This will release their aroma and flavor effectively. Now, drop them into your shaker. In the shaker, combine the remaining ingredients except for your club soda. Add a scoop of ice and shake vigorously. From there, simply pour the drink into a tall glass. You can top everything off with club soda. For an upscale touch, consider adding a hibiscus flower as a garnish!
By the way, do you know what a Fruchia is? Read more about it here!
The Benefits of Barmalade®
There are so many reasons to fall in love with Barmalade®. Barmalade® is 100% natural – always free of artificial preservatives, artificial coloring and artificial flavoring. Made with real fruit and delicious herbs, Barmalade® mixers offer unique flavor combinations that you won't find anywhere else.
With Barmalade® mixers, you can effortlessly craft artisan cocktails from home in less than one minute! This is the perfect cocktail mixer for experts or novices! Best of all, Barmalade® is incredibly versatile, allowing you to mix with all types of spirits as well as sparkling wine, teas, soda water, etc. While other mixers are watered down and have lots of sugar, Barmalade® is jam-packed with fruit. This lets you make the best craft cocktails without using as much product. A little can go a long way with Barmalade®!
Why Try Barmalade®?
Delicious flavors
Versatile cocktail applications
A little goes a long way
30-day shelf life in the fridge
All-natural
Gluten Free
No high fructose corn syrup
Fruit is the first ingredient (not water, like most mixers)
If you are ready to bring your cocktail ideas to life, give Barmalade® a try! You can easily shop all of Barmalade®'s delicious mixers and products now! Just follow the link to all-natural fruity goodness and cocktail bliss.